CAUTION: I'm going to get into a little spoilery territory in this review. Nothing too specific, but if you don't want to know anything that happens, just skip to the last paragraph.
Netflix has been in some hot water lately with comic book adaptation enthusiasts due to their sudden cancellation of all Marvel shows. It wasn't a huge surprise after the somewhat lukewarm, but still watchable, sophomore seasons of Iron Fist and Luke Cage were axed. When the streaming service followed up with canceling Daredevil after its explosive third season, it became clear that the company was not just clearing mediocre entertainment from their lineup but all shows from which they weren't benefiting financially. Now that The Umbrella Academy has been released, an adaptation of the Dark Horse comic by the same name, it's a little clearer what Netflix had in mind for its future in adaptations, as this deal was signed in 2017 well before the Marvel cancellations.
The first episode of the season recounts the significant occurrence that resulted in the events of the series; 43 women around the world, who were not pregnant when the day began, gave birth at the exact same time. The billionaire industrialist Sir Reginald Hargreeves (Colm Feore) tracks down and adopts/purchases 7 of the newborns to bring back to his mansion and raise. 6 of them were trained in combat to form a team of crime fighters. Their adventures and lives continued until one-by-one, each of the children left for their own reasons. At the sudden death of Sir Hargreeves, the now 30-year-old Academy students–Luther (Tom Hopper), Diego (David Castañeda), Allison (Emmy Raver-Lampman), Klaus (Robert Sheehan), Number Five (Aidan Gallagher), Ben (Justin H. Min), and Vanya (Ellen Page)–reunite to put him to rest, subsequently unearthing old skeletons.
The character setup could basically be described as Watchmen by means of dysfunctional X-Men with a small side of Preacher. If you enjoyed all 3 of those, as I did, you will probably like this series as well as it doesn't stray too far from the paths already tread by its predecessors. That being said, the show definitely has its own distinct style to it; while it can get thematically dark at times, juxtaposing heavy moments with an uplifting musical track, that doesn't keep it from being bright and funny the next moment or action-packed after that. The acting and delivery are top-notch from all the actors, but especially Page and Hopper, which is something we've come to expect from them already given their chops. Mary J. Blige and Cameron Britton certainly impress in their roles as Cha-Cha and Hazel, respectively.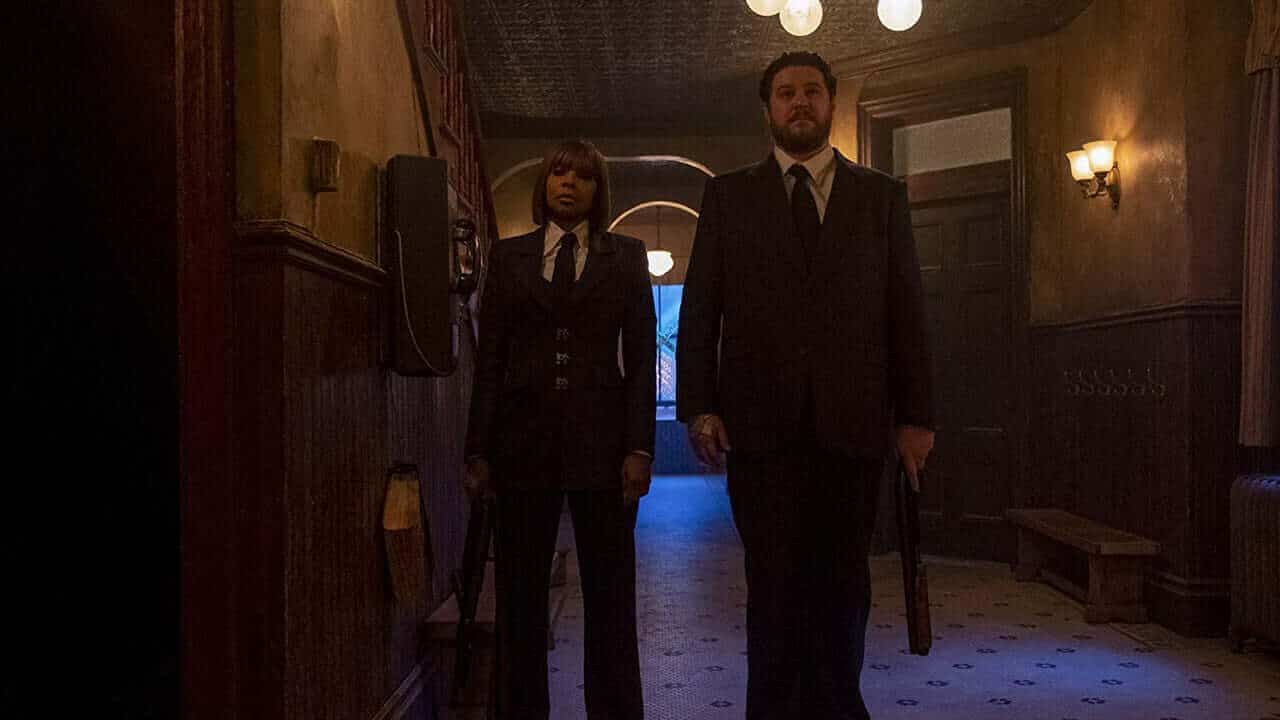 The unexpected highlights of the show come from Sheehan and Galagher. Sheehan, I didn't realize until after the fact, starred in the cult hit British TV show Misfits. He has been cast in a few badly reviewed movies but also in very well received series, so he is worth looking into. His emotional beats here seem so heartfelt and real that the viewer can't help but empathize with his character's struggles. Gallagher is a breakout star in the making, having gone straight from a few small Nickelodeon shows to a starring role in the Umbrella Academy. He proves himself to be completely capable as the time-traveling Number Five despite his young age, and I think we can expect great things from him in the future.
Overall, the show looks and sounds great, but not all is perfect. My main issue is with the story and pacing. Sir Hargreeves started Umbrella Academy, but having done so, he is responsible for the chain of events that lead to the thing that he was supposedly attempting to stop. We are given a small amount of backstory for him very late in the season, but it doesn't explain anything about who he is or what he planned to do. Our heroes aren't much less culpable as even though they are trying to stop it as well, they only end up making matters worse. If they would've done absolutely nothing or, you know, stopped excluding Vanya, they would have prevented this entire thing. Ending the season on a cliffhanger is an irritating leftover from network television that shows up here and feels very out of place when so many questions are left unanswered.
One of the great things the show does is give us a number of fully-realized characters. Each of them has their own arc and development that makes you empathize with their struggles. The flipside of that is there is so much going on that it starts to weigh down the middle of the season. It seems like the creators tried to give us a little levity at times, but compared to all the heavier scenes, the lightness tends to come off as slow. And then we get to one episode whose events are almost completely undone by Number Five due to time travel. That is a sign that writers have written themselves into a corner: all these horrible events are completely undone by traveling back in time. It's one of the laziest tropes in TV. Except then, events start playing out a little differently and we're not sure which version is occurring. Does the character know they've done this already or don't they?
The Umbrella Academy is quite a mixed bag. While the action, script, and cinematography are superb, the story leaves a lot to be desired. I can't say I didn't enjoy it though. There were moments when my eyes were glued to the screen wondering what was going to happen next. If you like superhero shows, you will like this one as well. Even people who like character dramas should get a little something out of it. I'll be interested in seeing what happens next season, hoping more nagging issues get resolved.
Score: 3.5 out of 5